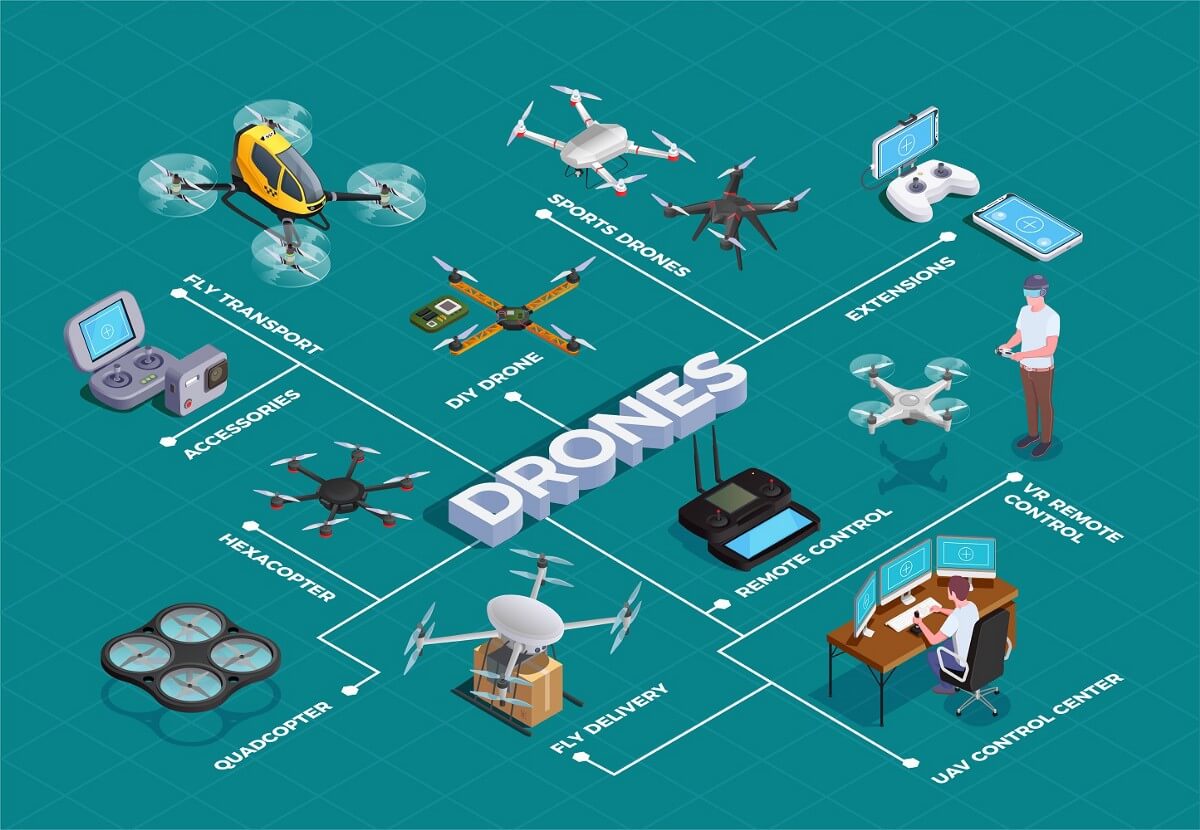 These days, you crane your neck up quite often to sight drones. You can spot them hovering over farmland, surveying a mining zone or even pressed into service for events and ceremonies with social congregations such as weddings. Indeed, these Unmanned Aerial Vehicles (UAVs), colloquially called drones, have come a long haul in flight. Designed exclusively for military operations in the beginning, drones now have umpteen applications- aerial photography for journalism & film, express shipping & delivery, gathering information or supplying essentials for disaster management, building safety inspections, precision crop monitoring, unmanned cargo transport, law enforcement & border control surveillance and forecasting natural calamities. From military surveillance to purveyors of commercial operations, the possibilities for drone applications are widening.
More Drones in Air as Governments Relax Norms
Enabling policies by governments are widening frontiers for large scale commercial use of drones. In the US, the industrial applications of UAV drones have grown manifold ever since the Federal Aviation Administration (FAA) in 2016 released rules on commercial drone usage, clarifying the legal landscape for drone usage for work and business. The new regulations streamline the process to legally operate a drone for commercial purposes. In India, The Ministry of Civil Aviation has cleared the commercial use of drones or UAVs for certain sectors from December 1, 2018.
How the Commercial Market Drives Drone Technology
With minimal human intervention, drones can cut time and save costs. They can also enhance data analytics, which allow companies to better comprehend and predict operating performance. In some industries, drones even enable new business models and opportunities. As per the estimates of PwC, commercial applications of drones have a total addressable market of $127 billion worldwide. Another consulting firm BCG estimates the industrial drone fleet in Europe and the US will be $50 billion by 2050 and more than 1 million units, with most of the value linked to drone services and data collection. Global business titans are already deploying drones. Amazon has started the same day delivery service, called Prime Air, which uses drones for deliveries. Facebook purchased Ascenta, a UK based aerospace company engaged in manufacturing of solar powered drones. Google has acquired Titan aerospace, a solar powered drone manufacturing company.
Drones for Smart Mapping of Mining Operations
Globally, major mining companies and junior exploration companies have been quick to use drones for conducting airborne geophysical surveys, mapping as well as monitoring open pit operations at quarry and metal mines. Surveying and mapping is an expensive and time devouring process even with handheld GPS.