"No one can whistle a symphony. It takes a whole orchestra to play it." Going by this quote, we at CSM, believe that great things in an organization are never done by a single person, but by a team of people aligned to the same vision. Encapsulating the spirit of CSM and the inclusive culture we propound at work, Harmony, CSM's Annual Function, gets organized each year, keeping the "fun of CSMers" at the core of all the experiences. Harmony-2021, conducted in CSM's upcoming Campus at Infocity, Patia, Bhubaneswar, on 26th of February, 2021, was no different.
The vibe of Harmony had already set-in 2-3 weeks' prior, with all the pre-event arrangements, lots of planning, listing down participants and long practice sessions. Right from the event agenda to the look & feel of the venue; everything was owned and managed in-house by CSM volunteers themselves.
The day was here, the stage was lit, and the theme of 90's was set. The evening took off on an exciting and high-spirited note with CSMers showcasing their multitude of talents on stage, in the form of dance, singing, mimicry, ramp show, and several performances reiterating the theme. It was truly heart-warming to see CSMers participating and entertaining everyone with so much zeal. Next, it was time to reward, appreciate and celebrate the outstanding employees, who've been a part of CSM since 10, 15 & 20 years. What added to the gaiety and the spirit of celebrations was the moon-lit sky, that shone high & bright, naturally personifying the event's starry success.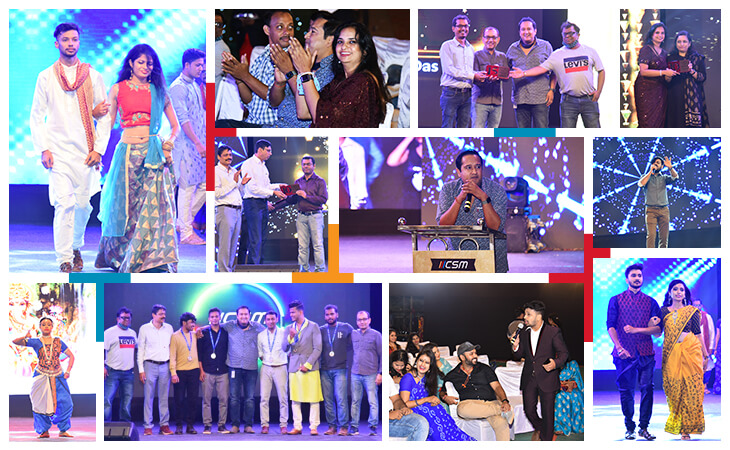 Harmony-2021 concluded with some high-octane dance moves when the DJ tuned in to the beats of 90's. All the acts and performances represented a true testimony to the creativity and enthusiasm of each of the CSMer. A gala evening, with so many memorable moments!