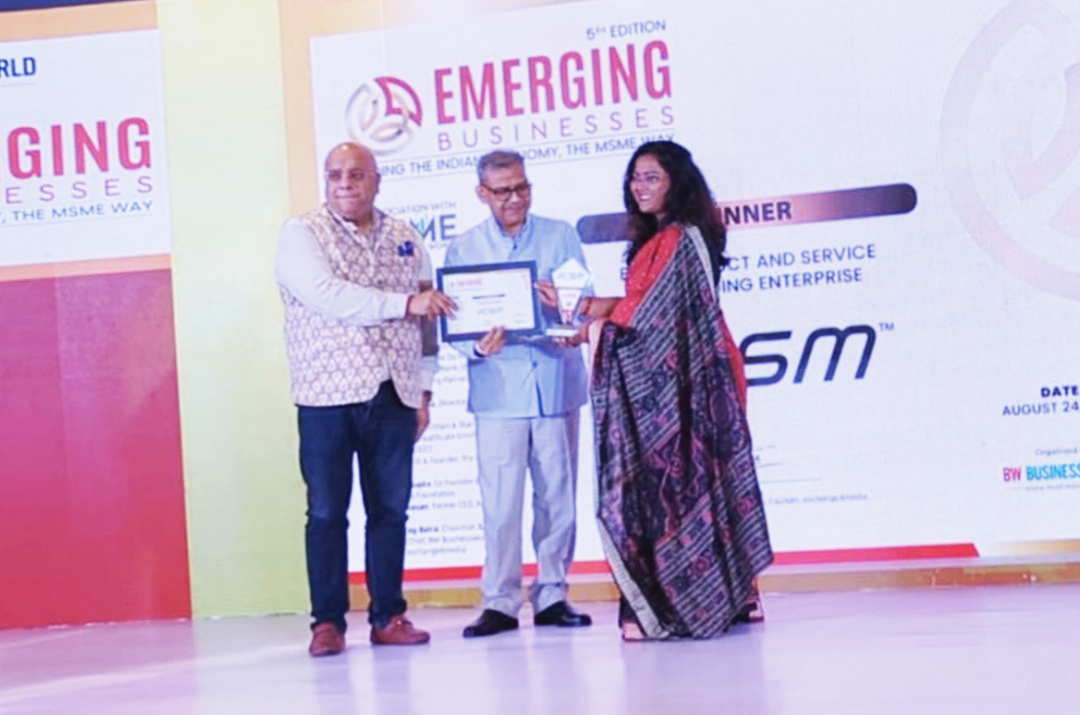 Awards
Delhi: CSM won the most prestigious award of the Best Emerging Business in India in the 5th BW Emerging Businesses Award in Association SME World in the category of Best Product and Service by Emerging Enterprise. The winners were selected by a panel of judges that includes renowned industry experts and business leaders, like Dr. Arvind Gupta, Co-Founder and head – of Digital India Foundation, Sushma Morthania, Director General – of India SME Forum, Sunil Srivastava, Former Dy MD, Corporate Accounts Group, State Bank of India to name a few.
The Summit and Award ceremony was held on August 24, 2023, at the Park Hotel in Delhi. Ms. Tapaswini Swain, Specialist – Marketing Communication from CSM Tech received the award from the Editor-in-Chief of Business World. Other winners like Elan Professional Appliances Pvt. Ltd, Search End Staffing Solutions, and SUTA Women won awards in categories like Best Technology-Driven Business, Best Social Enterprise, and Best Woman-led Business, respectively.
"Post-pandemic time the MSME sector has become the quintessential growth engine of the country which has mushroomed leaps and bounds in recent years, evolving from its traditional ways to become tech-driven. Now, the MSME sector is expected to be a key driver for building the nation's capabilities and ushering India toward its goal of becoming a $5 trillion economy. The Awards are a prestigious recognition of the hard work and dedication of SMEs in India. They are a testament to the strength and resilience of the Indian economy." said, Dr. Annurag Batra, Chairman & Editor in Chief – BW Businessworld & Exchange4media. The award ceremony was attended by over 500 guests, including business leaders, government officials, and media representatives.