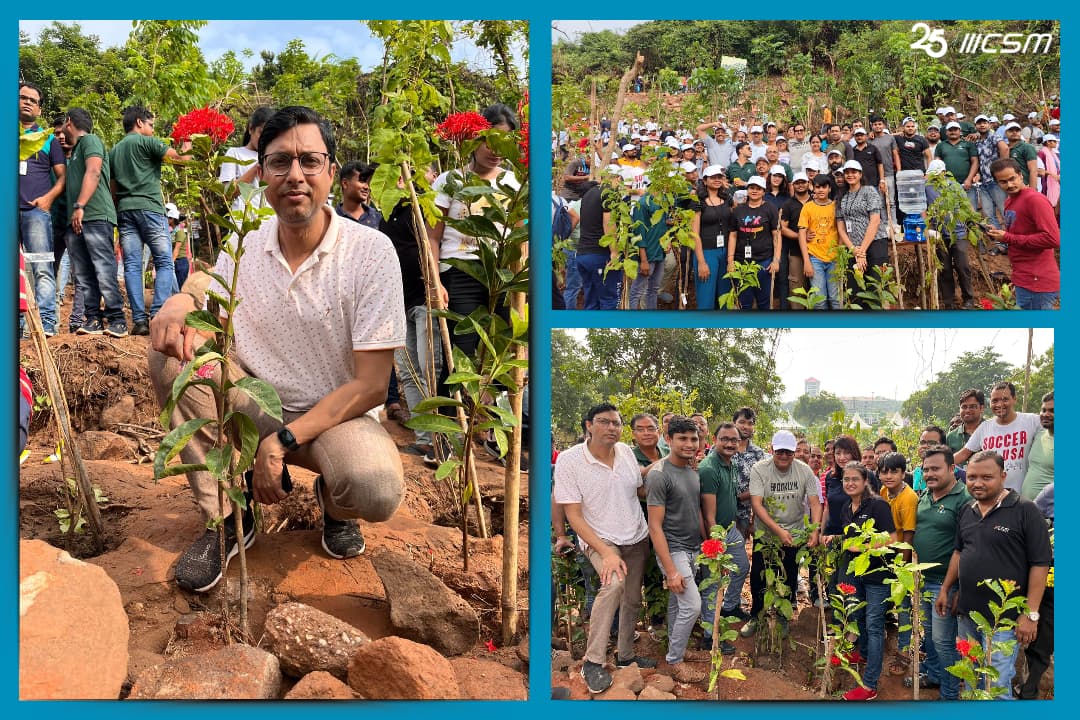 Sustainability
CSM Tech has joined hands to organize a plantation at Sikharchandi Hill. Despite it being a Sunday, the mass community afforestation program near Chandaka region under 'Sabuja Pahada' (Greening Hillocks), a unique community plantation drive, jointly organized by Bhubaneswar Development Authority (BDA), Bhubaneswar Municipal Corporation (BMC), Odisha Forest Development Corporation (OFDC) and Odisha Industrial Infrastructure Development Corporation (IDCO) has received an overwhelming response from the citizens to contribute to the noble cause of improving the green cover and saving environment – for themselves and for their future generations.
Over 5,000 people from different sections of the society thronged the famous Sikharchandi foothills early morning and planted and adopted more than 3400 saplings of different species on an area spread across 5 acres. Nearly 2000 school and college students, hundreds of senior citizens and members of Resident Welfare Associations (RWAs), IT company representatives, differently-abled persons, members of Self-help Groups (SHGs), market associations, religious associations, transgender community, NGOs, representatives of political parties among others joined the initiative with great interest.
Notably, the BDA has undertaken the redevelopment of the Sikharchandi hill area project to transform it into a major tourist attraction soon after the approval of the Master Plan by Hon'ble CM Shri Naveen Patnaik in January. The project will spread over a patch of land measuring nearly 54 acres, including the main temple and its surrounding areas and it has been divided into four zones.
Expressing his sincere thanks to all participants, Shri Balwant Singh, IAS, Vice-Chairman, BDA said: "The main purpose of this drive is to give a further boost to the green cover in and around this place by involving every section of the society. We always encourage people's participation and their constructive suggestions whatever we do to ensure sustainable and regulated development of Bhubaneswar and its iconic places."
CSM Tech is committed to the target of achieving carbon neutrality by 2033. Besides ensuring sustainability, it will assist and encourage its stakeholders, partners, and clients to be part of the revolution by designing and using sustainable products and services. And takes pride in being part of such an initiative for a greener and sustainable world.