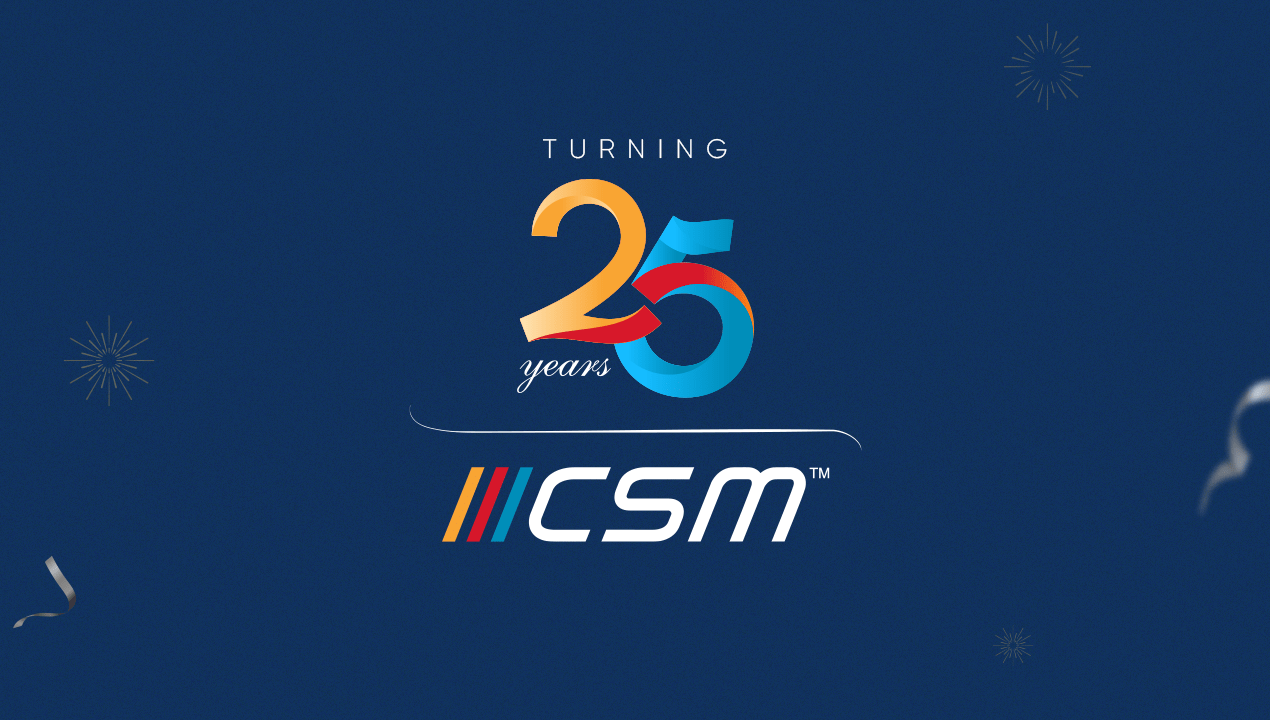 News
Bhubaneswar: As CSM turned 25 on 16th March 2023, the day was marked with a grand celebration. It was a momentous occasion for all the CSMers as CSM celebrated 25 years of success and growth, marking this milestone.
The day kicked off with a Townhall session, presided over by the CEO, Mr. Priyadarshi Nany Pany, followed by the cake-cutting ceremony. It was a virtual session organized via Zoom. More than 500 employees joined from across the nation and globe (India, Africa, and USA), to share the joy and celebrate the success. "Time is the most important component of life, and we have spent 30 lakhs man-hours in 3 years to be where we are. We have stood the test of time. And that's how each one of you has been responsible for this great dream come true moment, celebrating 25 years of perseverance and persistence way to success!", shared the CEO while addressing the employees in the Townhall.
Over the last 25 years, CSM has grown from being a 3-computer setup to 3 continents, from 2 people with a dream to over 1300 people working towards touching lives. What started off as an incubation unit under STPI is now heading towards building its own CSM Tech Park. The 25th foundation day marked the Bhumipujan Day (Foundation Stone Laying Ceremony) for the CSM Tech Park which will be completed in 2 phases to house more than 2000 tech enthusiasts.
The extravaganza featured a fireside chat session in the evening at the CSM Campus office graces by two distinguished guests – Mr. Subroto Bagchi, Chairman of Odisha Skill Development Authority, and Mr. Manoj Kumar Mishra, Principal Secretary of E&IT Department, Government of Odisha. They shared their valuable insights and experiences with all, which was a significant learning opportunity for the CSMers. This was followed by the launch of CSM's commemoration book, "The CSM Story," which chronicles the growth of the company and the contributions of the people behind the success of the company. This book is a kaleidoscopic view of the company from the sowing of the seed to its blossoming. The untold stories behind the journey will be enriching and inspire people to know CSM better.
To commemorate the historic silver jubilee two logos were unveiled. One was the special logo of the CSM @ 25 years and the other was of the CSM Foundation which is CSM's CSR wing.
The event culminated with a cultural program and a scrumptious dinner, where all came together and enjoyed the success achieved by the company. This milestone marked the beginning of a new era and a promise to make CSM "Bigger, Brighter and Smarter"!