"It was a working Friday at CSM, and I was gleefully thinking what to binge-watch on Netflix on Sunday, and suddenly we received an email, declaring 'All Saturdays would now be a compulsory off at CSM.' What a fantastic news we received! I completed all my assigned and pending works for the long weekend, so what was I waiting for - Christmas?
It was Christmas 2019, and I remember, we were asked to come in dressed in red or white attires, for celebrating #ChristmasAtCSM. Surprisingly & joyfully, I also turned out to be the Secret Santa to my manager, to whom I gifted a diary, and penned down a hand-written note.
Right after Christmas, another mail came in, stating about the "CSM Haat," the gala ceremony to welcome New Year-2020. CSM HQ transformed into a fun and happening place. Food, fun & games preparations at CSM Haat began; and we got to end the last day of 2019 amidst merry, joy and happiness.
At CSM, every morning starts with a new motivation and challenge, and we are always ready to surpass any hurdle that comes across.
2020 came the Covid-19 pandemic, which was unprecedented, but the way CSM responded and supported us during these tough times has been incredible. Compulsory Work from Home (WFH) was declared, and we got all the IT support, in our own homes. In fact, through the #ChairUp campaign, we even got our office chairs at home, to work comfortably & productively.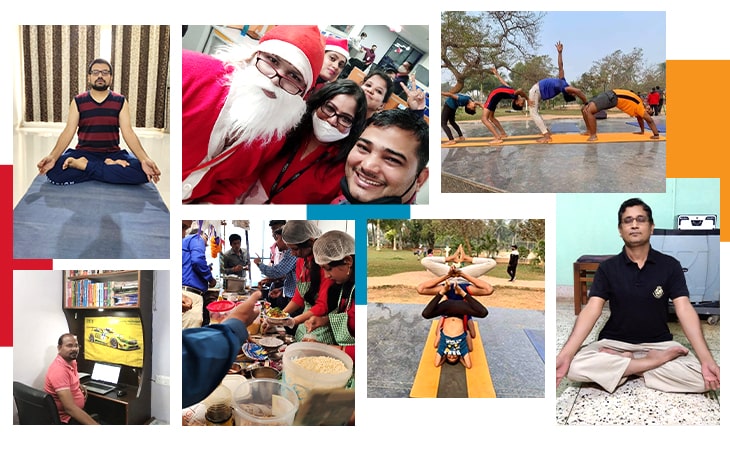 The pandemic surely made a drastic shift in our personal and professional lives, but yes today I can proudly say, that no matter the situation, WE THE CSMers ARE ALWAYS SARVDA SAMARTH!"
Written by:
CSMer Aditi Chatterjee, Presales Executive, Enterprise Business Group